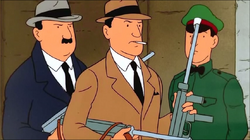 ZEPO (Ze-Po, Zekrett Politzs) are a special Syldavian police responsible for guarding the atomic area. (whom Haddock mistakes the two ZEPO recruits for the gangsters who followed them from the airport) They are resonsible for anti-sabotage precautions and counter-espionage and the ZEP . On that score the ZEPO have plenty to do. Despite all their precautions, certain powers know that they are building a moon-rocket and their spies are actively interested.  It is a Syldavian intelligence agency similar to the MI6 and the CIA. Syldavia is member of INTERPOL.
Ad blocker interference detected!
Wikia is a free-to-use site that makes money from advertising. We have a modified experience for viewers using ad blockers

Wikia is not accessible if you've made further modifications. Remove the custom ad blocker rule(s) and the page will load as expected.