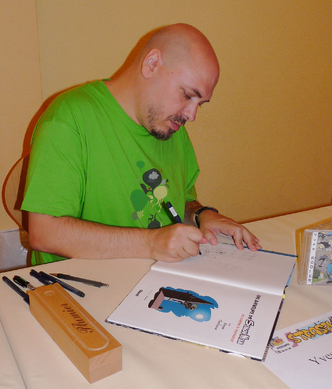 Yves Rodier (5 June 1967) is a French-Canadian comic strip author who produced a finished version of Tintin and Alph-Art. He also wrote Tintin, Freelance Reporter, a spin-off Tintin adventure set chronologically before Tintin in the Land of the Soviets. Its pages explain how Tintin got his job as a reporter. Rodier created the story for a contest but did not win as he was disqualified for using already existing characters.
Finished story plot
Ad blocker interference detected!
Wikia is a free-to-use site that makes money from advertising. We have a modified experience for viewers using ad blockers

Wikia is not accessible if you've made further modifications. Remove the custom ad blocker rule(s) and the page will load as expected.