Vladimir is a Soviet OGPU agent encountered in Tintin in the Land of the Soviets. Vladimir was the driver of the band that captured Tintin in Tempelhof and tried to smuggle him back into the Soviet Union. However, Tintin was saved from death by Snowy, his dog who scares off Vladimir and another OGPU agent disguised as a tiger.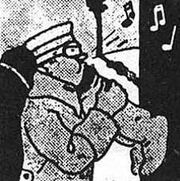 Ad blocker interference detected!
Wikia is a free-to-use site that makes money from advertising. We have a modified experience for viewers using ad blockers

Wikia is not accessible if you've made further modifications. Remove the custom ad blocker rule(s) and the page will load as expected.