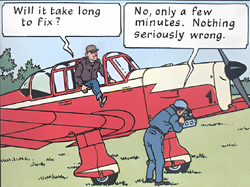 "Ah, my dear Captain Fatstock!"
This article is subject to ambiguous naming.
You can help the Tintin Wiki by investigating it.
This unregistered plane was a red, unregistered and private plane similar to a De Havilland Chipmunk, used by a pilot called Mick and his companion. The plane had some troubles and landed at a grass field. Tintin, who was walking with his dog Snowy, took a closer look to see what's going on. As he noted that the plane was unregistered, one of the pilots shot him and the plane departed again, after finishing reparations. The plane was later mentioned by Thompson and Thomson when they heard that it crashed near Eastdown, England. Tintin later saw the plane again (in pieces) at Sussex and investigate it to find clues to the mystery. The plane was never seen again since then.
Ad blocker interference detected!
Wikia is a free-to-use site that makes money from advertising. We have a modified experience for viewers using ad blockers

Wikia is not accessible if you've made further modifications. Remove the custom ad blocker rule(s) and the page will load as expected.