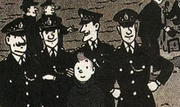 The Daily Reporter is a newspaper in the United Kingdom which was seen in The Black Island when a large article was print on the frontpage about the false money printer of Dr. Müller and is henchmen who were arrested by the police and especially by agents E.J. Edwards, T.W. Johnson, A.H. Wright and Mac O'Rally but also by Tintin and Snowy. There were four pictures about the article: one of an arrested Puschov, one of the false money bills, one about a wounded Ranko and one of the four agents, Tintin and Snowy.
Ad blocker interference detected!
Wikia is a free-to-use site that makes money from advertising. We have a modified experience for viewers using ad blockers

Wikia is not accessible if you've made further modifications. Remove the custom ad blocker rule(s) and the page will load as expected.