Scoubidouvitch is a Greek clarinet player who appears in Tintin and the Mystery of the Golden Fleece in The Adventures of Tintin series. He was first seen when after meeting Daphne Sirocoupoulis, he was revealed that he is part of the Golden Fleece in the photo with Themistocles Paparanic, Midas Papos, Anton Karabine, and the 5th person who disembarked in Tetaragua.
He was kidnapped by Angorapoulos and his men, tried to escape when the car nearly collided with a van, and fell over. The villains escape, and Scoubidouvitch had lost his memory about anything. He mentions something about Paparanic's gold and asked them to consult with Father Alexandre who is revealed to be part of them, and then he ran away.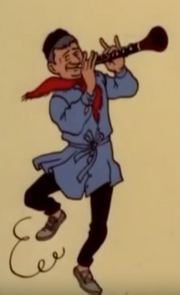 Ad blocker interference detected!
Wikia is a free-to-use site that makes money from advertising. We have a modified experience for viewers using ad blockers

Wikia is not accessible if you've made further modifications. Remove the custom ad blocker rule(s) and the page will load as expected.