Romulus is a parrot who appears in the film Tintin and the Mystery of the Golden Fleece in The Adventures of Tintin series. He was first seen in the Golden Fleece which Tintin, Haddock, and Snowy explored the ship, which Haddock originally dislikes. Snowy saw Romulus scared, and Clodion was soothing him. He was latter Calculus's pet which he invented a flying birdcage for him.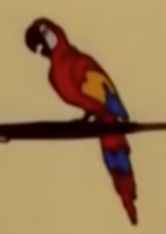 Ad blocker interference detected!
Wikia is a free-to-use site that makes money from advertising. We have a modified experience for viewers using ad blockers

Wikia is not accessible if you've made further modifications. Remove the custom ad blocker rule(s) and the page will load as expected.