Quick & Flupke (Quick et Flupke in French and Kwik en Flupke in Dutch) is a comic book series by Hergé (famous for The Adventures of Tintin) about two street urchins in Brussels named Quick and Flupke. The two boys unintentionally cause trouble, leading to annoyance with their parents and the police.
History
The series was published in black and white in the pages of
Le Petit Vingtième
starting in January 1930. The strips continued until 1940 (although they were republished in the
Tintin
magazine, conceived by
Raymond Leblanc
, this time coloured by
Studios Hergé
).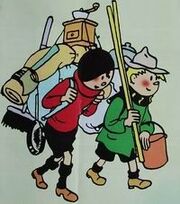 Hergé eventually abandoned the series in order to spend more time on The Adventures of Tintin, his more famous comic series. After Hergé's death, the books were coloured by the Studios Hergé and re-issued by the publishing house Casterman in 12 volumes, between 1985 and 1991.
List of volumes
Unlike Hergé's other series' there is no real chronological order to the books, though often the order that they were published in is used. The first book, Haute Tension is not by Hergé, but by Johan de Moor, the son of Hergé's assistant Bob de Moor.
High Tension
Initially published in September 1985 as Haute Tension. Haute Tension is not by Hergé, but by Johan de Moor, the son of Hergé's assistant Bob de Moor.
Double Trouble
Initially called Jeux interdits and first published in September 1985. The gags included in this volume are:
Tournament, Flying, Happy Easter, Dangerous Dog, The Swing, Everyone Gets a Turn, Magic, Drama, Posting of Notices Prohibited, Officer No. 15 Pulls a Prank, Directions, Traffic, Haute Couture, Unbreakable, Bravery, Oil-Based Paint, Forbidden Games, William Tell, Same Reasons, Dodging the Fare, The Soapbox, Caution, and Quick the Electrician.
Two of a Kind
Initially published as Tout va bien in September 1985. The gags included in this volume are:
Manners, How to Build a Glider, Happy Christmas, Mad Dog, A Present for Aunt Mary, Handyman, What Weather!, Having the Last Word, Three of a Kind, Heart of Gold, Rope Trick, Lucky Strike, All or Nothing, Honesty, Hot Stuff, Horror Story, Quick at the Wheel, Acrobatics, Right as Rain, Natural Disaster, Big Mouth, Musical Ear, and A Helping Hand.
Full Sail
Initially published as Toutes voiles dehors in 1986. The gags included in this volume are:
Naval Program, An Eye for an Eye, The Dog That Came Back, Locution, Back to School, Problem, Dowsing, Happy Easter!, Happy New Year!, A Picturesque Spot, Knowing How to Light a Fire, Demonstrative, A Good Picture, Lost in the Night, A Record, Penalty, Barely Believable, The Follies, Demand, The Tunnel, Winter Sports, New Year, and Peaceful Idleness.
It's Your Turn
Initially published in 1986. The gags included in this volume are:
Who Wants This Glove?, At the Optician's, Lullaby, Evangelical Love, The Dangers of Tobacco, The Little Genius, Angling, Sleeplessness, Make a Wish, Pointless Search, Music to Calm the Nerves, The Trials and Tribulations of Officer 15 (2), Speeding Police, Flupke the Goalkeeper, Crosswords, Broadcasting, The Rara Avis, The Rescuers, Flupke on Display, Camp at Night, Acrobatics, Foolish Games, and Vernal Poem.
Without Mercy
Initially Pas de quartier January 1987. The gags included in this volume are:
A Bit of History, Quick Out West, Be Kind to Animals, Swimming, Quick the Golf Pro, Horseriding, Windstorm, A Nice Surprise, Sports, Essay, Skating, Light Headed, Cleaning Day, Circus Games, A Nice "Shot", Rescue, Automatic Door Closer, A Good Line of Work, A Beautiful-Target, Payback, Camping (1), (2), and (3).
Excuse Me Ma'am
Initially published as Pardon Madame in January 1987. The gags included in this volume are:
If I Had a Million, Sad Story, Winning Ticket, The Road of Virtue, The Continuing Business, Hunting Story, The Child Prodigy, Nature's Response…, Everything's Fine, Reform, Gratitude, It's Your Turn, Vendetta, Faith in Publicity, Afraid of Germs, Thunderstorm, Simple Question, Eternal Youth, A Great Traveler, Caution, Bad Encounter, Meteorology, The Great Resource, and The Punished Artist.
Long Live Progress
Published as Vive le progrès in September 1987. The gags included in this volume are:
Back to School, Valve Painting, Ostrich Eggs, Return to the Soil, Higher Education, The Mosquito, Serious Customers, Obsession, Among Artists, Deafness, Happy Easter, Surplus Value, Natural Bronzing, Swaps, Long Live Vacations, Clarification, Progress, Traffic, Break-in, The Example, About-Face, No Deal, and Resolution.
Catastrophe
Catastrophe [January 1988] The gags included in this volume are:
Vocation, No! Carnival is Not Dead!, There's a Butterfly, and Then There's a Butterfly, The Alarm, The World As Flupke Would Like It (1), (2), & (3), The Remedy, Interview, He Wanted a Disaster, Mix Up, Upper-Style Horsemanship, An Inner Man, Apropos, The Art of Diving, Spiritualism, The Etruscan Vase, Secret Police, The Hiccup, Quick Builds a Wireless System, Pilfering, The Pancakes, and Patient Flupke.
Pranks and Jokes
Farces et attrapes [January 1989] The gags included in this volume are:
Gardening, Sharpshooter, Heat, A Breakdown, Quick the Mechanic, Quick the Cabinetmaker, Well-Endorsed, House Chores, Simple Loan, Ball, Flytrap, Trapeze, Flupke the Model Maker, Constructions, A Masterstroke, Barely Believable, You Can't Judge a Book by Its Cover, The Rocket, The Scrupulous Artist, The Prey, For Christmas, Temptation, and Beekeeping.
Bluffmasters
Coups de bluff January 1990. The gags included in this volume are:
Boating, Technicality, Intuition, The Cat and the Mouse, Quick's Toothache, Championship, Time is Money, Pedestrian Crossing, Cruelty, At Last the Sun, Bluff, Pastoral, Superstition, Perfumery, Be Kind to Animals!, Cold Shower, The Look-Alike, Tire Story, Suspicions, Harassments, World Record, Stability, Logic, and Experience.
Fasten Your Seat Belts
Attachez vos ceintures January 1991. The gags included in this volume are:
Real Cleaning, A Poor Woman, Seascape, Quick Learns Boxing, Music to Calm the Nerves, Pacifism, The Unbeatable, Advertisement, Method of Work, Quick the Clockmaker, Soccer, At the Auto Show, Crazy Story, A Serious Affair, Argumentativeness, Music-Mad Quick, So Do It, Innocence, Children's Rights, The Recipe, Yo-Yo, Metamorphoses, and Legless Cripple Story.
Cameos in The Adventures of Tintin
Quick & Flupke made short appearances in The Adventures of Tintin books:
When Tintin's adventures were first published in 1929 and the early 1930s, Le Petit Vingtième often put on publicity stunts with young boys dressed and made-up to look like Tintin returning to Brussels from his journeys abroad. One such stunt occurred on the 9 July 1931 when 14-year-old Henri Dendoncker dressed in African safari gear and played the part to mark Tintin's return from the Congo. Other boys appeared as Quick & Flupke.[1]
English translations
The English version of Quick & Flupke was produced in the early-1990s, and consisted of only two books, published by Mammoth Publishing. The books were translated by Leslie Lonsdale-Cooper and Michael Turner, who had previously translated The Adventures of Tintin. The text in the English volumes is not lettered in the same way as other Hergé books in English. The two English volumes are direct translations of strips in the French volumes Jeux Interdits and Tout va Bien. The English edition comics are all coloured, and named Double Trouble and Two of a Kind.
In January 2008, Euro Books India (a subsidiary of Egmont) released English translations of all the 11 titles that were originally written by Hergé.
Television series
In the 1980s, the books were made into a television series, the creation of which was supervised by Studios Hergé. It was recently re-issued on Multi-regional DVD in France under 3 titles - 'Coups de Bluff, Tout va Bien and Jeux Interdits.
External links
References
↑ Short biography of Hergé based on his interviews with Numa Sadoul
Ad blocker interference detected!
Wikia is a free-to-use site that makes money from advertising. We have a modified experience for viewers using ad blockers

Wikia is not accessible if you've made further modifications. Remove the custom ad blocker rule(s) and the page will load as expected.