Professor Paul Cantonneau is a French scientific scholar from the University of Paris.
History
He was a member of Decimus Phostle's Arctic expedition team to recover samples from a fallen meteorite, the Aurora Expedition. He first appears in The Shooting Star and then is featured in The Seven Crystal Balls and Prisoners of the Sun as member of the ill-fated Sanders-Hardiman Expedition.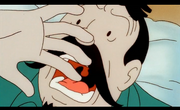 Ad blocker interference detected!
Wikia is a free-to-use site that makes money from advertising. We have a modified experience for viewers using ad blockers

Wikia is not accessible if you've made further modifications. Remove the custom ad blocker rule(s) and the page will load as expected.