Character information
Name(s):
Mrs. Clarkson
Hair:
Blonde
Known relatives:
Peter Clarkson (husband)
Nationality:
British (English)
Occupation:
Housewife
Status:
Alive
Behind the scenes
Portrayed By:
Elizabeth Dufresne
First Appearance:
The Seven Crystal Balls
Last Appearance:
The Seven Crystal Balls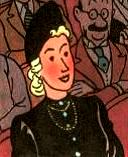 Mrs. Clarkson is the wife of Sanders-Hardiman Expedition photographer Peter Clarkson. She is first told of her husband's curse from a clairvoyant stage act by Ragdalam the Fakir and Madame Yamilah, though she is sceptical of it. After this she is informed of it by a more trustworthy source. She is seen later visiting Peter in hospital while he was in the coma.
Ad blocker interference detected!
Wikia is a free-to-use site that makes money from advertising. We have a modified experience for viewers using ad blockers

Wikia is not accessible if you've made further modifications. Remove the custom ad blocker rule(s) and the page will load as expected.