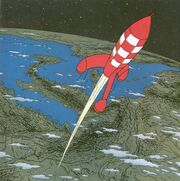 The moon rocket was a rocket invented by Cuthbert Calculus. It is red in colour and it has red and white square patterns in the middle predictively with 5 decks. This rocket fortunately doesnt break into pieces after it takes off and it can be reused after landing it on earth.
Rooms
There is a lab, for possible display of satellites and oxygen cylinders and there is a control cabin for the main controls of the rocket and there is a living deck where there are bunk beds for rest, a little kitchen and dining table all in one and a deck with air locks panels.
Trivia
​
Gallery
Ad blocker interference detected!
Wikia is a free-to-use site that makes money from advertising. We have a modified experience for viewers using ad blockers

Wikia is not accessible if you've made further modifications. Remove the custom ad blocker rule(s) and the page will load as expected.