The Maharaja of Gaipajama is the hereditary ruler of Gaipajama, a fictional Indian principality located in British India.
History
Both his father and brother were driven insane by Rajaijah Juice due to their opposition to the opium trade. The Maharaja continues this plight which results on an attempt on his life while sleeping. Fortunately Tintin had placed a dummy in his bed. Later on the Maharaja's son was kidnapped by The Fakir, though he was rescued by Tintin. He appears in both Cigars of the Pharaoh and The Blue Lotus.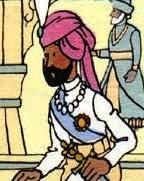 Ad blocker interference detected!
Wikia is a free-to-use site that makes money from advertising. We have a modified experience for viewers using ad blockers

Wikia is not accessible if you've made further modifications. Remove the custom ad blocker rule(s) and the page will load as expected.