List of trauma events to Snowy's tail
Comments

0
547pages on
this wiki
The tail of Snowy is subject to various injuries throughout The Adventures of Tintin. The following is a list of such events:
Tail Trauma
Edit
Tintin in the Land of the Soviets: Burned when Snowy is hurt in an explosion of a blasting fuse.
Tintin in the Congo: Bitten by a parrot; operated on by the ship surgeon of Thysville in order to prevent psittacosis.
Jammed in a door shortly after this operation; bitten by an electric ray fish (this event also zaps Tintin, via the rope).
Tintin in America: Stabbed by Bugsy Kidnap's swordstick at the Grynde meatworks factory.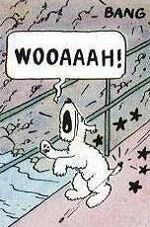 The Broken Ear: Shot by a Nuevo-Rican soldier as Tintin and Snowy escape from an army truck as it crosses the River Coliflor.
Accidentally hit by an unpoisoned dart after Dr Ridgewell shot a flower to demonstrate his aim; bitten by a piranha fish.
The Black Island: Snowy's tail is caught in a steel door.
The Crab with the Golden Claws: Snowy's tail is burnt while escaping the wreckage of the plane that crashed in the Sahara Desert. The TV episode shows this in more depth.
The Secret of the Unicorn: Captain Haddock steps on it when telling of Sir Francis Haddock stamping on the fuse set to ignite the barrels of gunpowder in The Unicorn's magazine.
Red Rackham's Treasure: Exclusive to the original strip, at port prior to departure, Snowy's tail is hit by Captain Haddock's match after his finger catches fire.
Land of Black Gold: Jammed in a mousetrap inside Senhor Oliveira de Figueira's cupboard in Wadesdah.
Shortly afterwards Snowy hurts his tail again in De Figueira's electric fan.
The Calculus Affair: Bitten by a swan after the taxi they were in was rammed into a lake in Switzerland.
Tintin in Tibet: When Captain Haddock lights his stove in the snow, it goes up in flames, burning his beard, and singeing Snowy's tail.