Lieutenant Delcourt is the commander of Afghar, a fictional military fort located in Morocco.
History
He offers shelter to
Tintin
,
Snowy
and
Captain Haddock
after his men find them unconcious in the desert. Delcourt also leads his men against Tureag raiders who attack the three after they leave Afghar. He has a fondness to alcoholic spirits and only appears in
The Crab with the Golden Claws
.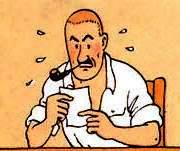 Ad blocker interference detected!
Wikia is a free-to-use site that makes money from advertising. We have a modified experience for viewers using ad blockers

Wikia is not accessible if you've made further modifications. Remove the custom ad blocker rule(s) and the page will load as expected.