Character information
Name(s):
Jimmy MacDuff
Hair:
Black
Nationality:
American
Occupation:
Circus Manager
Status:
Alive
Behind the scenes
First Appearance:
Tintin in the Congo
Last Appearance:
Tintin in the Congo

Jimmy MacDuff is the manager of the Great American Circus who features in Tintin in the Congo.
History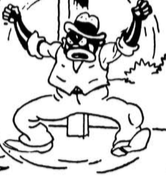 His company obtains animals in the Belgian Congo and sells them to urban zoos all over the globe. He is seen having a dilemma over an ill leopard, to which is offered advice from Tintin of limited usefulness. In the original edition of Tintin in the Congo MacDuff is a black man, however in the 1946 colour version, MacDuff is a white man.
Ad blocker interference detected!
Wikia is a free-to-use site that makes money from advertising. We have a modified experience for viewers using ad blockers

Wikia is not accessible if you've made further modifications. Remove the custom ad blocker rule(s) and the page will load as expected.