Professor Hector Alembick (French: Professeur Nestor Halambique) is an absent-minded professor whom Tintin meets at the beginning of his adventure, King Ottokar's Sceptre.
History
He is a scholar who specialises in sigillography. He lives in an apartment at 24 Flyaway Road above his landlady, Mrs. Piggott. He also has a twin brother named Alfred. His identity is stolen by his twin, who imposes himself as Hector as part of the conspiracy to steal Ottokar IV's Sceptre.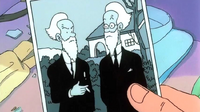 He, and Alfred Alembick, were both portrayed by voice actor Peter Wildman in the King Ottokar's Sceptre television episode in the The Adventures of Tintin television episode.
Appearances
Ad blocker interference detected!
Wikia is a free-to-use site that makes money from advertising. We have a modified experience for viewers using ad blockers

Wikia is not accessible if you've made further modifications. Remove the custom ad blocker rule(s) and the page will load as expected.