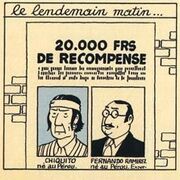 Fernando Ramirez is a Peruvian driver who work for Chiquito.
Publication
The strip ended with Tintin walking through the street reading a newspaper when he collides with General Alcazar. Alcazar tells him that he is now unemployed since the disappearance of his assistant Chiquito and how Chiquito is in fact a descendant of the Incas. Tintin then describes to him the man who was driving the car in which Calculus is believed to have been transferred to during the kidnapping. Alcazar identifies him as Fernando Ramirez, a major exporter of guano whom Chiquito knew well. Tintin then rushes him to the police station in order to make a statement.
Ad blocker interference detected!
Wikia is a free-to-use site that makes money from advertising. We have a modified experience for viewers using ad blockers

Wikia is not accessible if you've made further modifications. Remove the custom ad blocker rule(s) and the page will load as expected.