Character information
Name(s):
Eugene Trebblebob
Hair:
White
Nationality:
Belgian
Occupation:
Doctor
Status:
Alive
Behind the scenes
First Appearance:
The Broken Ear
Last Appearance:
The Broken Ear
Doctor Eugene Trebblebob is a resident of 120 Minstrel's Way.
History
While Tintin was in pursuit of Ramon Bada and Alonso Perez he is nearly knocked over by their car. A passer by gives Tintin an unsure memory of their number plate being 169MW. Tintin checks with the police and locates the owner of the car, who is Trebblebob. Tintin obviously recognizes that it is the wrong number. On his way home he accidently drops the note book with the number. It lands upside down and he notices the passer by's memory was slightly wrong, the plate was not 169MW, but MW691. This revelation leads Tintin to Ramon & Alonso.  In the TV episode, he was framed by Ramon and Alonso as Tintin since Snowy followed him for a while.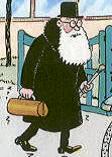 Ad blocker interference detected!
Wikia is a free-to-use site that makes money from advertising. We have a modified experience for viewers using ad blockers

Wikia is not accessible if you've made further modifications. Remove the custom ad blocker rule(s) and the page will load as expected.