Doctor Midge (French: Docteur Hornet) is the Director of the Darwin Museum. Midge is one of the seven members of the Sanders-Hardiman Expedition team who were placed in coma after disturbing the resting place of Rascar Capac.Thompson and Thomson were trying to protect him from being placed into a coma but failed after they were sent a butterfly from Java.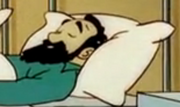 Ad blocker interference detected!
Wikia is a free-to-use site that makes money from advertising. We have a modified experience for viewers using ad blockers

Wikia is not accessible if you've made further modifications. Remove the custom ad blocker rule(s) and the page will load as expected.