Character information
Name(s):
Colonel Barker
Rank:
Colonel
Hair:
Black (Graying)
Nationality:
British (English)
Occupation:
Retired Military Officer
Status:
Alive
Behind the scenes
First Appearance:
The Broken Ear
Last Appearance:
The Broken Ear

Colonel Barker (French: Colonel Ronchont) is a retired Army Colonel who lives at 26 Labrador Road, and as such is a neighbor of Jacob Balthazar, the murdered artist. It was he who leads the residents up into Balthazar's room when his parrot Polly returned there after escaping from Tintin's apartment.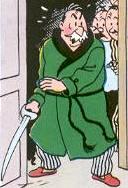 Ad blocker interference detected!
Wikia is a free-to-use site that makes money from advertising. We have a modified experience for viewers using ad blockers

Wikia is not accessible if you've made further modifications. Remove the custom ad blocker rule(s) and the page will load as expected.