Captain Archibald Haddock
Comments

7
547pages on
this wiki
"Billions of Blue Blistering Barnacles!"
"Ten Thousand Thundering Typhoons!"
Captain Archibald Haddock (French: Hadoque) is a retired merchant sailor who likes Loch Lomond whiskey and hates mineral water. He is also one of Tintin's closest friends. Haddock is highly addicted to whiskey but he also likes other spirits like rum. He first appeared in The Crab with the Golden Claws and had been in every Tintin book since them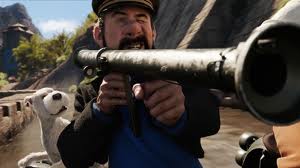 Main article: List of Captain Haddock's Curses
Captain Haddock has a large amounts of curses and he yells many when he wishes to insult. Below is an almost full list:
Abecedarians, abominable snowmen, aborigine, anachronisms, anacoluthons, anamorphic aardvark, anthracite, anthropophagus, anthropithecus, arabian nightmare, artichokes, autocrats, Aztecs, baboon, bagpipers, balkan beetle, bandit, bashi-bazouks, beasts, belemnite, big-head, blackamoor, black-beetles, blackbird, blackguards, black marketeers, blistering barnacles, billions of blue blistering barnacles, bloodsuckers, blue blistering barnacles, body-snatcher, bootlegger, bougainvillea, breathalyser, brigand, brontosaurus, brutes, buccaneer, bully, cannibal, carpet-sellers, caterpillars, centipede, cercopithecus, coconuts, coelacanth, corsair, cowards, crab-apples, cro-magnon, crooks, cyclone, cyclotron, diplodocus, dipsomaniac, dizzards, dogs, doryphores, duck-billed platypus, dunder-headed ethelreds, dynamiter, ectoplasm, ectoplasmic byproduct, egoists, fancy-dress fatima, fancy-dress freebooters, fat faces, filibusters,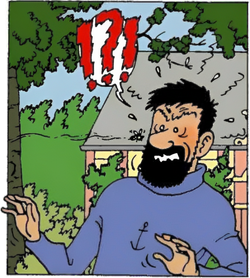 flaming Jack-in-a-box,
freshwater swabs, fuzzy-wuzzy, gallows-fodder, gang of thieves, gangsters, gibbering ghost, gobbledygooks, gogglers, goosecaps, guano gatherer, gyroscope, harlequin, heretic, highwayman, hi-jackers, hooligans, hydrocarbon, iconoclast, interplanetary goat, invertebrate, Jack pudding, jellied-eel, jelly-fish, jobbernowl, kleptomaniacs, Ku-Klux-Klan, lily-livered bandicoots, liquorice, logarithm, macrocephalic baboon, mameluke, megacycle, megalomaniac, miserable earthworms, misguided missile, monopolizers, moth-eaten marmot, moujiks, mountebanks, nincompoop, nitwits, nyctalops, odd-toed ungulate, olympic athlete, ophicleides, orangoutang, ostrogoth, pachyrhizus, paranoiac, parasites, patagonians, phylloxera, picaroons, pickled herrings, pirates, pithecanthropuses, pockmarks, politician, poltroons, polygraphs, Polynesian, prattling porpoise, profiteers, prize purple jelly-fishes, psychopath, pyrographers, pyromaniac, rats, rhizopods, road-hogs, ruffian, savages, scoffing braggart, sea-gherkins, sea-lice, shipwreckers, slave-trader, slubberdegullions, squawking popinjay, steamrollers, swine, sycophant, technocrat , terrapins, toads, toffee-noses, torturers, traitors, tramps, troglodytes, turncoats, twister, two-timing tartar twisters, vagabonds, vampires, vandal, vegetarian, vermicellis, villain, Visigoths, vivisectionists, vulture, whipper-snapper, woodlice, wreckers, and Zapotecs
Bianca's Names
Edit
Bianca Castafiore has trouble remembering Haddock's last name and has created many new names, below is a list:
Addock, Capslock, Kapok, Bangkok, Bartok, Fatstock, Drydock, Hopscotch, Stopcock, Hammock, Paddock, Hassock, Havoc, Maggot, Bootblack, Balzac, Bedsock, Padlock, Hatbox, Stockpot, Harrock, and Hemlock.
One reason why Bianca Castafiore always has trouble saying Haddock's last name correctly may be because when they first met in the book The Calculus Affair, Haddock was unable to say his name correctly:
Castafiore: Aha, you little flatterer, so you've come to congratulate me, with this... fisherman... Mr? ... Mr?...
Haddock: Er... Hoddack...er.... Haddad... Excuse me, Haddock.
In Tintin and the Picaros, Professor  Calculus calls Captain Haddock "Hatpin" and Tintin "Tin Tack."
And he will say it,
"Tintack!...Capock Hatpin!...Terrible news!...Dreadful! 
Drunkness
Edit
Captain Haddock was a drunkard, Which is one of his weaknesses
Haddock and Tintin seem to portray a father-son, close relationship. This is shown many times throughout the series, such as letting Tintin stay in the spare room in his house and in "Tintin in Tibet," when Tintin is bickering with the Captain about going to find his friend, the Captain says, "Fine, go. But don't ask me to come because the answer is no." Yet in the next scene, we can see the Captain getting off a plane with Tintin.
While Haddock is still portrayed as a drunkard in the Spielberg film, he is apparently in more control of it than he is in the book: for example, he prevents himself from drinking a glass of wine at one point.