Character information
Name(s):
Bobby Smiles
Hair:
Black
Nationality:
American
Occupation:
Governor (Book)
Criminal Worker (TV Series)
Status:
Alive
Behind the scenes
First Appearance:
Tintin in America
Last Appearance:
Tintin in America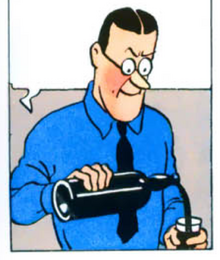 Bobby Smiles is the American governor of the rival gang fighting Al Capone in Chicago. Smiles makes an appearance in Tintin in America and he and Tintin combat each other throughout much of the story. Smiles even manages to turn the American Indians against Tintin. He is eventually captured and sent to the police by Tintin's actions. In the animated series equivalent, Tintin in America (TV episode), Smiles works for Capone, rather than against him.
Ad blocker interference detected!
Wikia is a free-to-use site that makes money from advertising. We have a modified experience for viewers using ad blockers

Wikia is not accessible if you've made further modifications. Remove the custom ad blocker rule(s) and the page will load as expected.