Allan Thompson
Comment

1
547pages on
this wiki
Character information
Name(s):
Captain Allan Thompson
Alias(es):
Allan
Rank:
Captain
Hair:
Black
Nationality:
Unknown
Occupation:
Ship's Captain
Affiliation:
Kih-Oskh Brotherhood
Status:
Alive
Behind the scenes
Portrayed By:
René Arrieu
Marc Moro
Daniel Mays
First Appearance:
Cigars of the Pharaoh
Last Appearance:
Tintin and Alph-Art
"Well, have a look in his socks."
—Allan to Tom
Allan (originally Allan Thompson in French) was Captain Haddock's first mate on board Karaboudjan, and a  smuggler and criminal. Allan's name was Allan Thompson in the original French, but English translations omit his surname in order to avoid confusion with Tintin's detective friends Thompson and Thomson.
Cigars of the PharaohEdit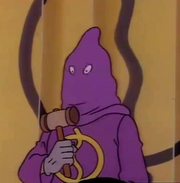 Allan first appears in Cigars of the Pharaoh as skipper of a smuggling boat working for the mysterious leader of the opium ring known as the Kih-Oskh Brotherhood. In the television adaptation, he is revealed to be a high ranking member of the brotherhood and is depicted as the leader of the meeting in Gaipajama that Tintin infiltrates.
In the same episode, Allan is working in a Sailboat so he has only joined Captain Haddock from the Karboudjan between Cigars of the Pharoah and Crab with the Golden Claws
Crab with the Golden ClawsEdit
He next appears as one of the primary antagonists in The Crab with the Golden Claws as the mutinous first-mate of Captain Haddock aboard the Karaboudjan. Here, he smuggled drugs between Morocco and Europe as henchman of Omar Ben Salaad.
The Red Sea SharksEdit
He reappears in of The Red Sea Sharks, once again in league with Rastapopoulos, now known as the Marquis di Gorgonzola, where his ship, the Ramona, is used in illegal slave trading.
Flight 714Edit
In Flight 714 to Sydney, Allan helped Rastapopolous in capturing Laszlo Carreidas, along with Tintin and his companions, on the South-East-Asian island of Pulau-Pulau Bomba. He was savagely beaten by escaping Sondonesians, causing him to suffer severe injuries and lose of all his teeth, resulting in babyish speech. In the same book, he, along with Rastapopoulos and company, got captured by aliens and faced an unknown fate.
Tintin And Alph-Art (Yves Rodier version)Edit
Allan Left Rastapopoulos's Gang and Became a Mailman in The United States. In the book. He is Chased by a dog when delivering a mail . 

Edit
Other Portrayals 
Edit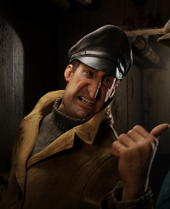 In the movie The Adventures of Tintin: The Secret of the Unicorn, Allan is still depicted as the first mate on the Karaboudjan but is a lackey of Ivan Ivanovitch Sakharine instead of Rastapopolous. At the finale Allan tries to stop Haddock with his pistol but kicks Haddock and tries to get Sakharine on the road. Before he could do that, he was thrown by Haddock and landed on a truck, banishing him.