Abdullah is the only son of Mohammed ben Kalish Ezab, the Emir of the fictional Arab state of Khemed.
Biography
He is an extremely spoiled, mischievous and hyperactive child, as well as an incurable prankster who loves to play tricks and set traps on unexpected visitors, including his father. After first appearing in the Land of Black Gold, the Emir Mohammed ben Khalish Ezab and his son reappear in The Red Sea Sharks, after the Emir had been temporarily overthrown in a coup d'etat by rival tribe leader Bab El Ehr. Abdullah is entrusted by the Emir to Tintin's care as a result. The Emir's son is a serial practical prankster whose favorite target is the short-tempered Captain Haddock. At the conclusion of The Red Sea Sharks, father and son are presumably reunited. He is then mentioned in Tintin in Tibet. He appears in Tintin and Alph Art staying with his father at Rastapopulu's villa in Italy.
Trivia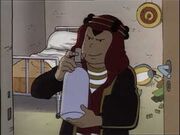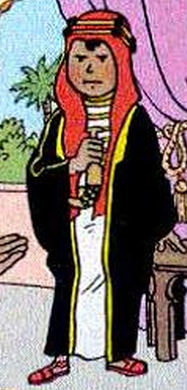 Ad blocker interference detected!
Wikia is a free-to-use site that makes money from advertising. We have a modified experience for viewers using ad blockers

Wikia is not accessible if you've made further modifications. Remove the custom ad blocker rule(s) and the page will load as expected.