2004
.
Events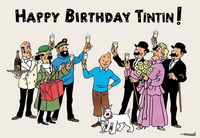 October
22 October - Congolese Information Minister Henri Mova Sakanyi described remarks by the Belgian foreign minister critical of the chaos in the Congolese government as "racism and nostalgia for colonialism," he remarked that it was like "Tintin in the Congo all over again."
Ad blocker interference detected!
Wikia is a free-to-use site that makes money from advertising. We have a modified experience for viewers using ad blockers

Wikia is not accessible if you've made further modifications. Remove the custom ad blocker rule(s) and the page will load as expected.